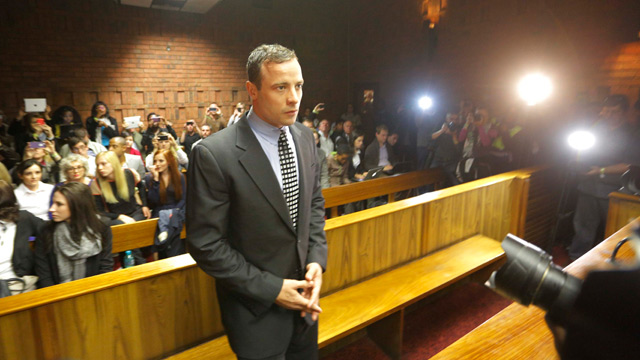 A door looms large in the trial of Oscar Pistorius and today it made its appearance.
Standing before its bullet-riddled facade and hefting a cricket bat, a forensic scientist reconstructed how Pistorius bashed it open just after shooting dead his girlfriend.
But the trial yet hinges on the moments right before Pistorius knocked open the door. Did Pistorius think his girlfriend, Reeva Steenkamp, had actually been an intruder when he shot and killed her on Valentine's Day in 2013?
Pistorius, a South African Olympian despite the fact he doesn't have legs, claims he woke in the middle of the night and hobbled to the bathroom without his prosthetic legs. There, he says, he thought he'd discovered an intruder lurking inside and shot through the door.
Two days after Pistorius vomited while hearing the graphic description of the trauma he inflicted on his girlfriend, prosecutors set up the bullet-ri
ddled bathroom door.
The Associated Press reports that Pistorius, his lead defense lawyer Barry Roux, and court officials crowded
around the door.
Prosecutors allege that the Pistorius and Steenkamp had had a vicious argument that culminated in Steenkamp's murder.
The door was removed from Pistorius' mansion in Pretoria as a crucial bit of evidence, and legal experts expect its entry into the proceedings to perhaps finally illuminate what actually occurred the night of Steenkamp's killing.
Throughout the trial, a troubling image of Pistorius has emerged — and witnesses and experts have repeatedly challenged his version of events. Friend Darren Fresco described the Olympian as having "a big love" for guns. Fresco testified he'd witnessed the athlete fire guns in public two separate occasions in the six months before Steenkamp's death.
It first happened, he said, when Pistorius had suddenly fired his gun through the sunroof of a moving car in September 2012. Then again in January 2013 when the runner fired his weapon by accident under a table at a crowded Johannesburg restaurant.
Pistorius' timeline of events has also come into question. One expert, a pathologist, says Steenkamp's autopsy proved she had eaten within two hours of her shooting — contradicting Pistorius' recollection that the two had gone to bed around 10 a.m., six hours before she was killed.
Also, four separate witnesses have testified they heard a woman screaming that night — and believed it had been Steenkamp's voice. Pistorius claims it was he who had screamed.
If found guilty of murder, Pistorius faces 25 years in prison.