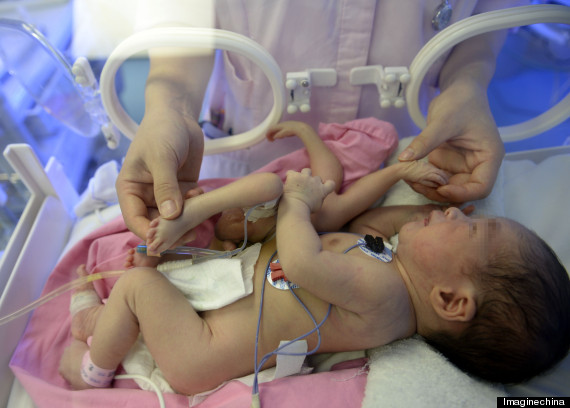 The baby born with 4 legs and 4 arms had an operation to surgically remove the extra limbs on Friday.
Global Times reports that the boy, born in China's Guangdong province, on April 2 is in stable condition after the surgery.
Yu Jiakang, chief surgeon at Guangzhou Women and Children's Medical Center, told the Yangcheng Evening News that the baby was born joined at the torso to a headless parasitic twin.
According to the Evening News, the mother underwent five examinations at various local clinics and hospitals, and doctors found no abnormalities with the fetus.
However, the boy's father, identified only as "Mr. Chen," told ImagineChina that he felt guilty about his son's birth defects because he did not arrange for his wife to receive good enough care.
"I only cared about my work," he said. "I just thought of making money instead of taking [my wife] to hospital for a medical checkup."