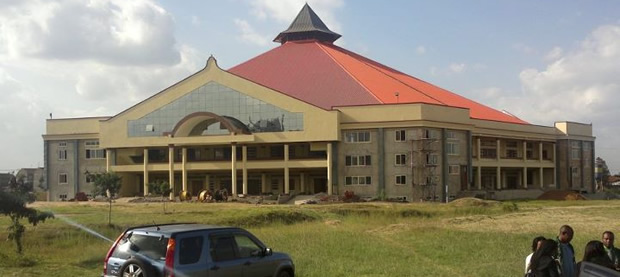 A jilted husband, Mr. Ifeanyi Kenneth Okpoko, has written a petitioned to Bishop David Oyedepo, the general overseer of Winners Chapel, asking him to tell one of his pastors, Kelvin Ugwuoke, to leave his wife alone.
In the letter dated November 14 2013, titled: 'Case of Adultery, Snatching Of My Wife And Secret Marriage Engagement', an embittered Mr Okpoko alleged that Pastor Ugwuoke snatched his wife, Blessing Ifeanyi Okpoko and went secretly to Dubai and engaged her in marriage.
He stated that both Pastor Ugwuoke and Blessing are ministers in Winners Chapel, noting that, before she left his house, she was the pastor-in-charge of House Fellowship in his house at Ajao estate.
He said he legally married Blessing, a banker, according to the marriage act and when he discovered she had a secret marriage arrangement, he confronted her with some photographs while Blessing was still living with him. This however prompted her to move to Pastor Ugwuoke's purported house at Prime Water View Estate, Flat 8 at Lekki...
The estranged husband said Blessing also filed a suit at Lagos High court seeking for the dissolution of their marriage to cover up her adulterous act with Pastor Ugwuoke.
In the letter to Bishop Oyedepo, the husband noted that Blessing and Pastor Ugwuoke are fighting him with their Police connection, adding that she want to stop him from taking over their joint property.
Mr Okpoko stated in the letter that the duo were lovers in Kano before Pastor Ugwuoke dumped her to marry other women with children, while she got married to him.
He stated that his marriage broke up in April 2014 when Blessing who is an Area Manager in one of the UBA bank branches, informed him that she was going to Dubai on official duty.
He explained that Pastor Ugwuoke who is the Risk Manger in a new generation bank joined her in Dubai where they formalized their relationship.
He said when his wife returned home, her behavior totally changed, picking quarrels unnecessarily until the information and photographs of their secret marriage got to him.
The husband told Bishop Oyedepo in the letter that Pastor Ugwuoke took his wife and children which has left him in mental and psychological trauma.
"Sir I have been subjected to mental and psychological trauma which can led to untimely death. Ironically, they are ministers in your church which calls for your intervention" he stated.
He also attached pictures taken by Pastor Ugwuoke and Blessing both here in Nigeria and Dubai.
To See Photos Of Blessing and The Pastor CLICK HERE
Just move on God will provide for you and the evil doer will be brought to justice
Keep the conversation going, please drop a comment.
Be Sociable, Please share