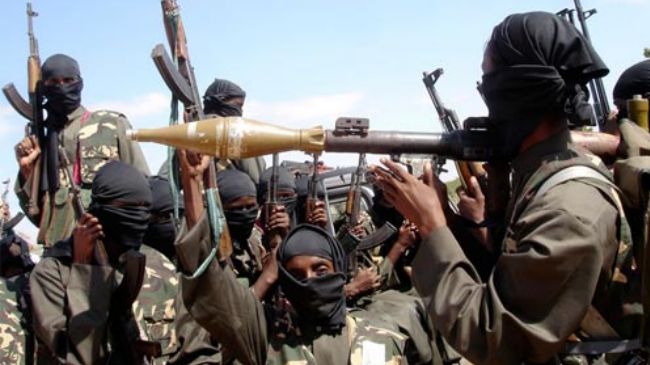 It appears the on-going ceasefire deal between the Presidency and Boko Haram has finally collapsed with the reported abduction of a fresh set of Sixty Women by suspected members of the deadly Boko Haram sect at Waga Mangoro and Garta villages, both in troubled Adamawa State.
Forty of the women were said to have been abducted in Waga Mangoro and the other 20 were forcefully taken away from Grata, all in Adamawa.
Some of the fleeing residents from the area, who called journalists in Yola on the telephone lamented that scores of insurgents riding motorcycles and driving vans had invaded their towns.
The fleeing residents while lamenting the capture of the two towns, said they were able to sneak out of the captured towns on Tuesday, but disclosed that their villages were ravaged on Saturday.
One of those that was about to flee the area, Tizhe Kwada told journalists that the area had been under the control of Boko Haram for about two months now...
According to Punch, he said that though one of the attacked towns, Garta had been under what could be termed as the control of the insurgents for sometimes now, but that did not stop them from overrunning it and carting away the young women.
Kwada claimed that the insurgents cordon off the entire town and went from one house to another in Garta in search of young women who they took in their vans to an unknown destination.
He said, "The insurgents are still in the area. And they have slaughtered many men in Garta and abducted many young women. We also heard from residents of Wagga that they killed two men and took 40 women away from there."
A community leader from Michika, a neighbouring town to the two attacked towns, Emmanuel Kwache, while confirming the incident to journalists in Yola on Wednesday said, "I got the information from villagers in the area that the rampage was still in progress."
But when he was contacted, the Chairman of Madagali Local Government Area, James Watharda, said "I had all along been in Yola since the insurgents took over the area and as such I can speak little of happening in the area."
Maybe the cease fire was meant to take effect from next year or they were allowed to get replacement for the "about to be released" Chibok girls
Keep the conversation going, please drop a comment.
Be Sociable, Please share