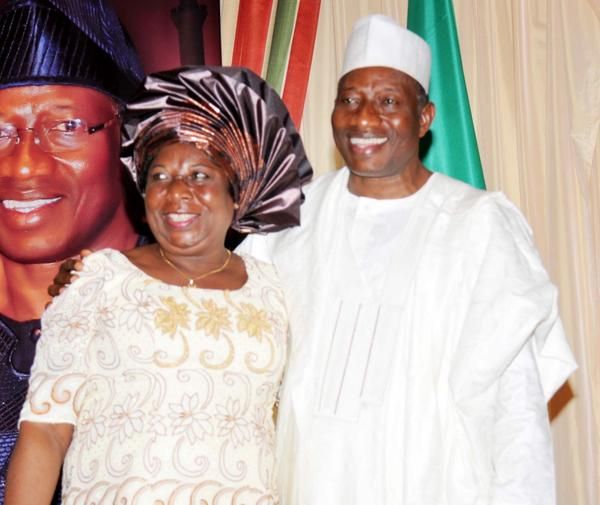 On Sunday 27th July 2014, President Goodluck Ebele Jonathan hosted members of the FCT Muslim community who paid him an Eid el Fitri visit at the Presidential Villa in Abuja.
Guests present at the Sallah visit were the Vice President Namadi Sambo, the FCT Minister Bala Mohammed, and the Chief Imam, Abuja Central Mosque.
A special guest was his elder sister. As the siblings posed side-by-side one can't help but notice the striking resemblance.
Meanwhile…
At the meeting, GEJ said that there would have been crisis if Buhari had been killed during the Kaduna bombings
"Look at the recent attacks in Kaduna, especially where Sheikh Dahiru Bauchi was a target and Gen. Buhari was also a target. You can imagine if these two people had died in those
attacks.
Sheikh Bauchi is one of our top Islamic preachers. He has millions of followers, Buhari, a former Head of State and a leading political figure, has massive supporters.
On the same day, people wanted to kill them. Those who planned the attacks are clearly sons of the devil because if they had killed these two people, we wouldn't have been here today.
This country would have been in turmoil. We couldn't have gathered here to celebrate. We thank Allah for saving their lives and preventing a major calamity that would have befallen our country."
Photo Credit: Reuben Abati
Keep the conversation going, please drop a comment.
Be Sociable, Please share